My Mount Pinatubo Trek Hike Adventure February 2, 2011
Posted On February 3, 2011
Mount Pinatubo has a special place in my memory. I know the exact date it last blew up / erupted, June 15, 1991… because just the day before the woman of my life agreed to be my girlfriend. I was 21 years old then. Very much conscious of everything around me by that age. And the Mt. Pinatubo eruption rained down a lot of ash fall in Manila for many many days and ravaged Pampanga and Tarlac victimizing many friends and relatives. It's been almost 20 years now and it's about time to scale and conquer this massive destroyer of 1991. Trek, hike, adventure of Mount Pinatubo is only for the fit and those seeking excitement and risk. If you are the type who wants his life in total guaranteed safety, this is not for you. Again, Mt. Pinatubo hike trek is for the fit, who appreciate risk, who seek excitement and interest to see such a historic landmark.
In keeping in line with the theme of this blog, this hike trek of Mt. Pinatubo was made possible because I am now fit and healthy. I had overcome obesity, disease and had reversed aging by some 10 years. I now have youth, strength and stamina from a most wondrous raw paleo diet – the original human diet. Of course I packed raw paleo diet food with raw duck eggs and horse ceviche with lots of garlic (ceviche keeps in the pack). As added safety in this risky hike, our experienced trekker friend Vernon lent us walking sticks that gave us 3rd legs to stand on and be able to traverse the entire hike with zero injury. I am a total newbie to trekking. My last trek was some 2 years ago in Taal Volcano crater.
Our trip up mount Pinatubo started with arriving at 6:30am in the small village of Barangay Sta. Juliana, Capas, Tarlac. We registered with the tourist office, got a brochure, then parked our vehicle with the private 4×4 tour operator. There are dozens of private Mt. Pinatubo 4×4 trekking outfits and our experienced trekker friend chose Alvin Bognot's home stay at Mt. Pinatubo. For 1,500 pesos, you get a 4×4 vehicle to drive you up to a point, and an authentic Ita / Aeta / "kulot" native guide to follow up the mountain. Then upon arriving back home we were prepared a feast of pork chops, spicy chicken, salted duck egg with tomatoes, fried tilapia and chinese fried rice. Our ita guide's name was Zaldy. They call themselves ita okay? Call them "ita" because that is what they call themselves. It was a beautiful, perfect weather day this day February 2, 2011 the best day in the 8th time our exprienced trekker friend had scaled this volcano.
The 4×4 was a home made 4×4 which was mechanically adequate and powerful enough to go up to Mount Pinatubo. There are no seat belts, and no doors or roofs, but it did have anti-roll-bars. Do not, absolutely do not take your own vehicle up to mount Pinatubo! You are likely to damage your vehicle, or get yourself killed trying. Let the experts drive you up! They know the way, they have daily experience they have radios. Your cell phone is useless here. The ride was bumpy, wet, wild and exciting, more than a carnival roller coaster can give you. The steepness challenge, the wet sand with enormous rocks and dangerous passes is not for the faint of heart. For this climb we passed via the "skyway", it's not always open, but they say this is the most expedient way. We drove in a pair of 4x4s, 2 australian women in a 2nd 4×4.
At a clearing, the 4x4s parked and we were now to go hike on foot for 1 hour. Our ita guide Zaldy was not talkative, in fact he didn't talk, he helped carry heavy stuff and know the safe way up the treacherous hike. We were hiking up water ways full of rocks on the paths, you look up, there are rocks that may fall on you too. You need a walking stick, a 3rd leg so you don't fall and injure yourself and you need to walk "sakang" / bow legged to maintain balance and you must concentrate on where you are walking and plan where to step. If you do slip at times you will wet your shoes or wet your bum.
The hike was good and slow, enjoyable. Slow because my good friend with us was some 50 pounds overweight so we knew the load he was carrying. I myself was once 50 pounds overweight. We enjoyed the novelty of the rocks. We enjoyed the flowers. And even saw and tasted some wild strawberries and berries. There was a halfway point with toilet and a place you can rest and eat your meals. We decided to eat breakfast early on the hike before the halfway point by big rocks. The wind was rather cold. I decided to keep warm by staying under the sun and taking off my shirt so I can get the full power of the sun on my body which needed a good charge of sunlight vitamin D. We arrived at the foot of Mount Pinatubo crater view after 1 hour and 30 minutes or more.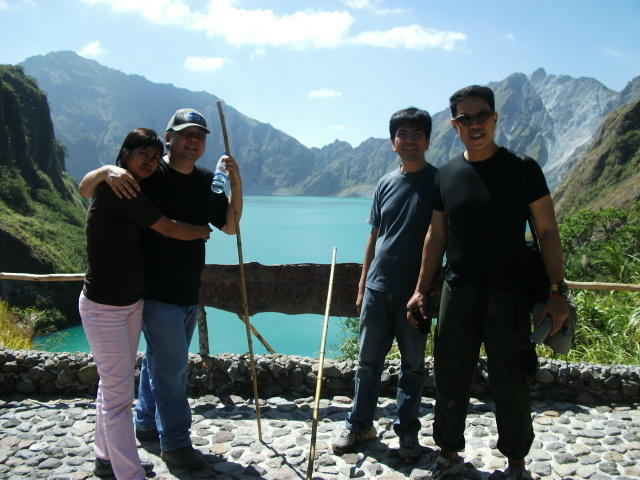 The mount Pinatubo crater view was road bricked with the stones and materials available in the area. A nice arrangement. Some wooden sign boards. A deck where you take photos, sit down and talk with your tour guide, and a canteen bar where you could order drinks from an ice chest they bring up the mountain. Nobody stays there overnight. You can have a choice of Gatorade, canned soft drinks and coffee. Sorry, no wine and no alcohol nor beer was there at that time. I chose Gatorade, got 2 of them. Hopefully it replenished my electrolytes. It's not raw paleo diet but it should get me through the day. Magnificent Pinatubo crater lake view. Fantastic. And you can take a closer view down below. This crater view modern area had been established for only 1 year.
You get to walk down to the crater lake itself. There is a stretch of sandy "beach". But beware, the water goes straight down like a cliff after a few steps. Rumor has it that the last sonar measurement was 77 meters depth in the crater lake, around 252 feet deep. The signboards say "no swimming", that there are no lifeguards, and that the depth is undetermined. Earily, you look into the water and see there is no animal LIFE in it. Rumor has it people tried restarting life and put fish in the waters, but none survived, probably no plants they can eat. Funny, we keep seeing tourists, foreign white tourists swimming anyway. And we even saw a bunch of swimmers huddled and swam more than 200 meters from the official crater tourist shore. Ah well, it's their risk. Told you this was only for the adventurous and this is where the adventurous congregate.
The tourists in this Mount Pinatubo adventure trek? A lot! Global. Different nationalities. Some old people too! If old seniors can climb up, then you can too. We even saw a German couple with 2 tiny children: a 2 year old and a 3 year old. We thought they were insane but they may be experienced trekkers. Do not just walk in and expect to be able to go out the same day to trek on weekends. On weekends, there are just too many tourists the 77 four wheel drives are fully booked on weekends. So call first. Reserve first. We went on a weekday. Not that many tourists, but enough of them this Wednesday. We saw German, Dutch, French, Canadian, American, Korean.
On to the boats! You can rent a boat for 250 pesos per person for up to 6 people in each boat. The boatman took us across the lake to another beach where the sand was warmed by the volcanic energy, on the beach, you can see the steam, the water vapor, some of the rocks were hot to the touch and the water may be too hot for bare feet. There is another beach across but it was off limits / forbidden to go to as your human flesh will burn there, in fact parking your boat may burn the boat!
Super luck! We heard and saw volcanic rumblings and a big landslide across from the hot beach. The boatman said they have that everyday but this one was the loudest one he had seen. And we caught it on video!!! This volcano is still active. No doubts about it. The Ondoy storm in 2009 instantly terra formed the crater in various ways, collapsing some caldera segments, and resulted in lowering the water level significantly afterwards.
Going down was much easier. We were the last to go down the mountain.
Safety please: Patronize the Local Operators
On the way back in the vast lahar plains we saw a Korean looking man with his vehicle left rear tire stuck in a hole, we gave a rope and the 4×4 behind us helped tow him out of the hole. Told you you shouldn't bring your own vehicle and stick with the local tour operators. We were the last vehicles to go down. If we didn't see him or help him, he would be stuck there overnight!
In the last Ondoy big downpour typhoon in 2009, some foolish persistent French tourists were rejected by the local Pinatubo tour operators because storm Ondoy was coming. They were persistent and drove back to Angeles city and rented a 4×4 outfit there and drove up Mt. Pinatubo. Of course the big bad Typhoon Ondoy hit Mt. Pinatubo while the 4 man French tourists plus their Angeles driver and a tour guide were up the mountains. They all died, their vehicle was never found, possibly buried in a massive landslide, their bodies and body parts were found in several pieces and various locations downstream.
So check the weather. Follow your local Sta. Juliana tour operator. No means NO! When they say it is impassable today, they mean it. When they say it is passable, it is so. The local operators have home stay options for only 500 pesos a night with meals! Let the professionals guide you. Our tour operator contact numbers are:
Homestay / Mt. Pinatubo
Mr. Alvin Bognot
Brgy. Sta. Juliana, Capas, Tarlac.
Cellphone No. +63-919-861-4102
Tell him Edwin Casimero referred you from this blog.
Pictures and videos to be posted soon!