Sushi Ideas: Hasa Hasa Ceviche, Sea Urchin, Tiny Cucumber – Rolled in Nori
Posted On May 10, 2013
Some few nights ago I just needed a raw paleo diet dinner for myself and just raided the refrigerater for whatever was in there. First I saw we had some 4 day old hasa hasa fish filet ceviche using some sweet Japanese vinegar. Then I saw we had raw sea urchin. As I was eating these two items, I thought there was something missing and remembered I bought some organic tiny cucumbers from our organic farmer Gil Carandang. These tiny cucumbers tasted delicious, way way better than the big ones. Then I thought, I had all the fun ingredients for a sushi roll and brought out some Nori. Well, Nori is not raw, but hey, we can't be perfect all the time. It's fun and totally delicious and satisfying. 6 rolls were enough for me. Get your kids to eat raw food for a change.
See my Sushi Idea: Hasa Hasa Ceviche, Sea Urchin, Tiny Cucumber – Rolled in Nori … inspired by whatever was in our refrigerator on May 07, 2013. Click pictures to enlarge.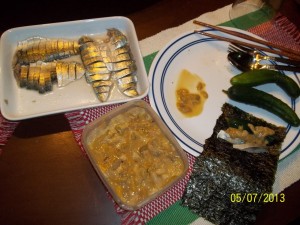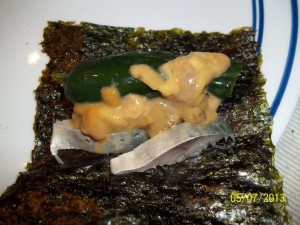 You can do this at your home too. This is how I did this:
1. In the Japanese grocery in Timog near the corner of Quezon Avenue – I bought the Japanese sweet vinegar for the ceviche.
2. In Gil Carandang's Saturday store in Makati in Leviste Street I bought his tiny organic cucumbers.
3. In Farmer's market Cubao or Marikina wet Market, I bought the fresh Hasa Hasa fish for ceviche, filleted them and dunk them in the japanese vineger for a couple of days. Keep them in the refrigerator.
4. In the Korean Grocery in Farmer's Market in Cubao I bought the Nori and the pack of raw sea urchin.
Enjoy!