Share this article
We visited the Honey House in Alaminos town, a source of pure raw honey.  This is an establishment that sells just honey related products.  They have 2 types of pure raw honey, and they have other varieties as well, with several products.  You can see them in their signboard of products below.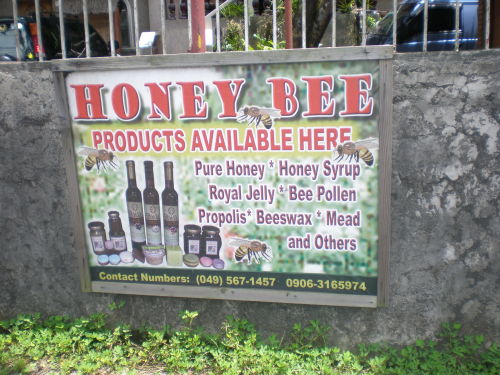 Are you able to read the contact numbers? 049-567-1457 and 0906-3165974.
The owner says they sell all their stock in that little honey house in Alaminos.  They don't export outside of their town because they don't have the capacity yet to do so.  Maybe next year?
The young lady Jen was nice enough to allow us to visit the bee farm just in their back yard.  We visited the hard working bees.  Took pictures, we didn't get stung.
Raw honey is part of our staple food and I'm glad we found this additional source of raw honey.  Raw honey with calamansi juice… refreshing… raw honey with butter a la Aajonus Vonderplanitz… interesting… raw honey with avocado… rocks… my eldest boy likes raw honey with raw cow's milk.
Patronize the Honey House, we need more of these genuine food conscious businesses.
Share this article