Another good nutritious day of eating for my malnourished boy
Posted On September 2, 2009
My 8 year old boy woke up late this morning.  He made it to class just in time.  But there was no time to play in the playground for some sun.  He had some light breakfast which his mom prepared, some papaya, some rambutan and a raw fertilized duck egg yolk.
* Note: the papaya is organic, the rambutan is organic, the raw fertilized duck egg is organic imported from a remote town in Palawan.
I know for his school packed lunch he has wild ocean tangigue fish which is pan seared on ghee / clarified butter.  To buffer his cooked meat he has an organic raw cucumber.
* Note that the tangigue fish is wild ocean, supposedly loaded with good omega 3 fats and the clarified butter is supposed to give good fats as well (albeight cooked).  Searing isn't so bad, just some 5 seconds per side of the fish slice.
Upon reaching home, I was having my raw beef for lunch… I gave him the raw beef muscle blood to drink, maybe 20 ounces of the drippings.
* Note that the raw beef and raw beef blood is part of our zomotherapy… the answer to tuberculosis.
For an afternoon snack I don't know what he had, I was out getting wild river turtles from my hunter.  Maybe he had fruit?
For dinner I fed the children personally.  They had raw tangigue prepared with slices of ginger, onions and cayenne pepper squeezed with calamansi… a dish called kinilaw.  The calamansi juices "cook" the raw tangigue meat for a few minutes and it is chilled in the refrigerator.  This was just the starter course.
* Note the same wild ocean tangigue fish.
The main dinner was lightly seared 2 inch thick grass fed sirloin batangas beef.  The chicken had fun watching and counting down the cook with their 10 second chants which actually seemed like 6 seconds as the kids are impatient and count fast.  I think they like the mere smell of seared but love the inside absolutely bloody raw.
* Note that we get only freshly killed authentic competitive batangas beef in Farmers Market in Cubao.
There was a beef fat shortage as the children gorged on the yummy yellow fat, I had to ask the cook for more fat from the refrigerator which was supposed to be for tomorrow's packed lunch.
The kids appreciate beef fat with gusto.  In contrast with common filipino customary eating with lean cooked meat + loads of rice, these kids know that the beef fat is their rice.
I was using a brand new sharp carving knife I bought but with the frenzy of little fingers grabbing each slice of beef made it very dangerous so I switched to scissors for the rest of the dinner.
The kids chomped every bit of the fish and the beef we prepared.  I had warned the 2 younger kids that they need to stuff themselves with this dinner as there is absolutely no coming back to the kitchen just before bedtime to eat some fruit or to cook an egg.  And they did stuff themselves.
Then I tucked them in all to bed at around 8:15pm.  Mommy arrived a bit later.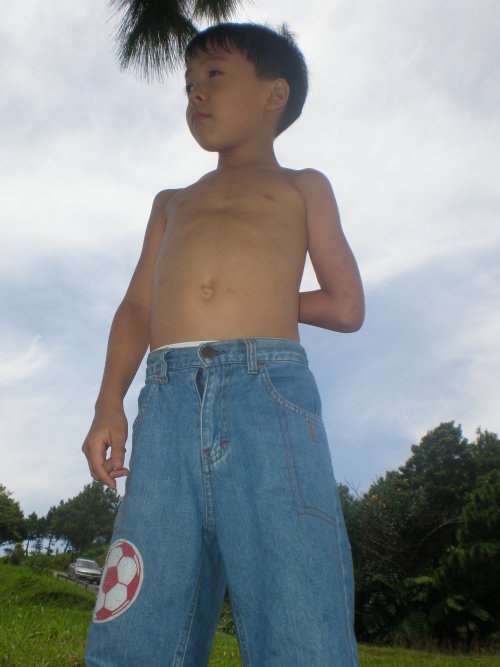 My 8 year old was diagnosed a few months back with tuberculosis.  He's not coughing, he has no cold, so there is no way to do a sputum test.  If he did have TB germs, they're obliterated now after going on Beam Ray therapy.  He seems malnourished and has scratch marks on his arms.  Probably zinc deficiency as well.  I'm seeing to it that he gets the best raw food and the best cooked food.  This boy is now well adapted NOT EATING RICE AT ALL. I have banned rice to stop the most idiotic combination of meat + rice that makes it hard to digest food, especially for my son with a weak digestive fire.  Now he eats a lot of meat and a lot of fat. Tomorrow is wild turtle dinner day.