Escaping the New Year Air Pollution: Pranjetto Hills, Tanay, Rizal
Posted On January 2, 2011
Happy New Year to all! We had a happy new year 2011 by escaping the Metro Manila Air Pollution. On December 31, 2010 after lunch we drove up the Sierra Madre mountains, past the street market traffic at Cogeo Antipolo, then past Boso boso, then past the Sierra Madre hotel and into Pranjetto Hills in Tanay Rizal. This was our 2nd consecutive new year in Pranjetto Hills. Sierra Madre mountains are nearer to us, just 1.5 hours away. It is NOT crowded at all. The mountain air is super clean. Mountain nature at its best.
This time we had better accommodations. We got cottage 101 in the new development at the back. 5 beds for 3,000 pesos for that evening. We arrived past 3pm and checked out at 9am. New in this cottage was a toilet seat! Amazing. And they had television for those who are TV addicts, it has Dream TV satellite TV. They had 2 decent swings. There was a new zip line but no operator, it's a holiday. There was a very nice nature trail, walk up and down the hills, very very nice, we walked for at least an hour the morning of January 1, 2011. The valley view was that of Laguna de Bay.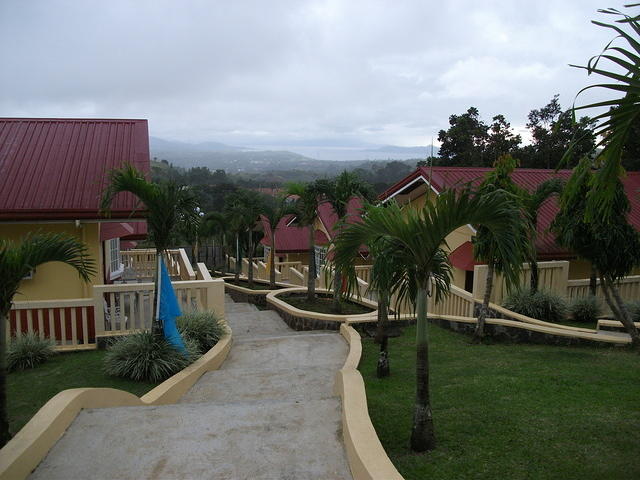 We celebrated the December 31 afternoon by flying kites! The day before in December 30 we bought 4 big kites. We had 2 batman kites and 2 eagle kites. The eagle kites sucked. They need long heavy tails added to them to stabilize their flight. The batman kites were very good. They flew mostly straight and maximized our kite line.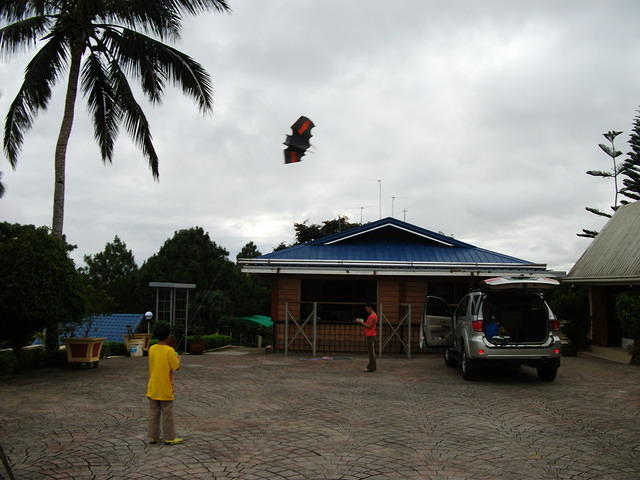 At dinner 6:30pm my wife kids and the Nannie had some cooked beef teriyaki and organic white rice. Teriyaki is made with honey, fermented and brewed soy sauce, garlic plus the sliced beef. I had my raw beef steak. I forgot to bring scissors so I had to use my hands and teeth, which was easy. But my wife thought was a turn off. I brought some Yakult probiotics for the kids. We also brought with us some more supplies like 4 raw duck eggs for my breakfast, 10 boiled duck eggs for them all, some sliced watermelon, a papaya, and some saba bananas.
After dinner we flew some rubber band sling shot lighted twirling missiles. The best new year present ever. For only 10 pesos each. It has a switch that turns on a blue light. You launch the large plastic dart like shaped missile with the rubber band into the air. The shape of the tail you bend a little forces the thing to twirl around. Much fun. It was cold in the mountain. But we had 6 reusable missiles with us, even my wife launched some, and the kid of one of the care takers joined in the fun. We had a blast with kiddie: Ready, Aim, Fire for around 30 minutes in the cold.
And then it was time for bed at around 8pm.
After a light breakfast of boiled eggs and water melon, mine were raw duck eggs, we went on an hour long morning hike. Scenic. Lots of pictures.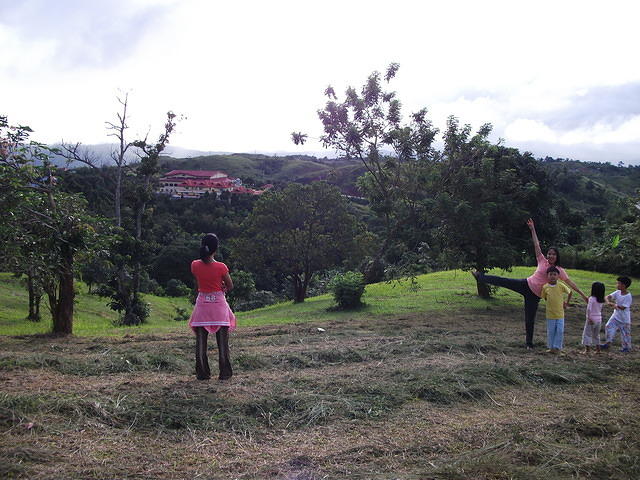 After 9am we checked out of Pranjetto Hills and drove out further into the Sierra Madre mountains looking for that old natural spring pool. We were enjoying the view, it was drizzling, and getting foggy. We had driven 30 kilometers and then called it quits, no pool yet so we drove back.
On the way back we passed by what I thought read like JC Camp, but then found out it was JE Camp. Found out it was Joseph Estrada or Joseph Ejercito Camp, the vacation camp of the former president Erap and also where he was under house arrest for some time. Wow, nice find! Maybe next time we should try staying here for the new year.
We got back home around 12:30pm kids were very hungry. I was hungry. Good lunch waiting for us. Lamb! They got seared lamb, I got raw lamb. Very good, very fatty.
My wife was hesitant to go up the mountains saying the forecast was for rain so there may not be much fireworks. But we pushed on ahead with our escape plans. Hey, we've been escaping metro manila new year air pollution for some 10 years already, it's a family tradition.
The news from the maids were… we made the right choice. As usual, they taped up with old newspapers all the windows. But they forgot one small window by the stairs. A neighbor had very loud videoke running beginning 6pm with very bad voices, a Chinese neighbor began the loudest firecrackers 10pm all throughout past 12 midnight, another neighbor in front had a lot of fountains spewing tons of smoke and another neighbor in front also blew lots of judas belt type of firecrackers. The home village was engulfed in total smoke until 9:30am. My father in law was not able to do his 6am jog because there was no visibility. We arrived 12:30pm and all smoke had cleared at this time.
It's a good thing we pushed through. I'd hate to see asthma suffering complaints from my wife and possibly the kids if they had stayed home for the new year evening fireworks and pollution. Setting off your own fireworks, the risk of getting injured, and wallowing in the air pollution is just not worth it. It's madness why people set off their own fireworks. I'd read enough, spent enough, experienced enough of the madness and we've had enough. I saw my aunt get burned by a misfiring roman candle, my wife's entire family witnessed her cousin blow off his entire right hand with a crying cow that went boom, I had a close encounter with a 5 star blowing just as I threw it, maybe 2 inches away from my hand, and taking out smoke black buggers from your nose is not fun. For asthmatics like my wife, gasping for breath isn't fun.
So please stop blowing your own fireworks. Just let the professionals do it and watch it in your favorite local town official display or mall or condo. I'd seen enough of the global fireworks competitions and they are spectacular, you can't imitate that ever by yourself. We got some torotots / horns, 3 pesos a piece.
Happy New Year 2011!
Pranjetto Hills information:
Sitio Mayagay, Sampaloc, Tanay, Rizal
Tel: 02-401-5995
Email pranjettohills@yahoo.com