Lentil Soup Recipe First Test With Duck Stock, Cumin, Lemon Drops and Fresh Coriander
Posted On January 30, 2013
Hello fellow lentil soup explorers. Me and my assistant just created our first lentil soup using the recipe from http://markbittman.com/7-ways-to-make-lentil-soup . We had all the ingredients in our master-chef kitchen so we went all out this morning 8am. We had left over duck soup stock hanging around… lucky. We had our unopened lentils from the indian grocery. We had organic carrots and celery. I just bought fresh lemons and fresh coriander yesterday. And we had extra virgin olive oil, cumin and bay leaves in stock. We did not need to add any salt or pepper because the duck soup already had them in good quantity. FYI in the duck soup we used freshly ground pepper and we used himalayan pink salt.
We followed the following instructions with my specifics:
2 tablespoons extra virgin olive oil
1 onion, chopped
1 carrot, cut into 1/2 -inch dice
1 celery stalk, cut into 1/2 -inch dice
1/2 cup lentils, washed and picked over
1 bay leaf
4 cups duck soup stock (with salt and pepper)
1. Put the 2 tablespoons of extra virgin oil in a large, deep pot over medium heat. When hot, add the onion and cook, stirring frequently, until soft, just a minute or two. Add the chopped carrots and chopped celery and keep cooking and stirring until brightly colored and hot, about 2 minutes.
2. Added the lentils, bay leaf, and duck soup stock. Bring to a boil, then turn the heat to low and cook, stirring occasionally, until the lentils are tender, about 30 minutes.
Lentil Soup with Cumin. Add 1 teaspoon ground cumin along with the bay leaf.
UPON SERVING: In the bowl for eating, added a squeeze of lemon chopped fresh cilantro / coriander.
We only used 1/2 cup of lentils for this test. At first I tried just 15 minutes of cooking but the lentils were not ready. So I extended to 30 minutes. I feel next time en mass we should do 40 to 45 minutes with the lentils we have. I like mushy and I would want all anti-nutrients cooked away. (I'm a paleo diet adherent, just doing this recipe for the Greek menu I'm preparing for)
Here is a photo of my first lentil soup in a bowl.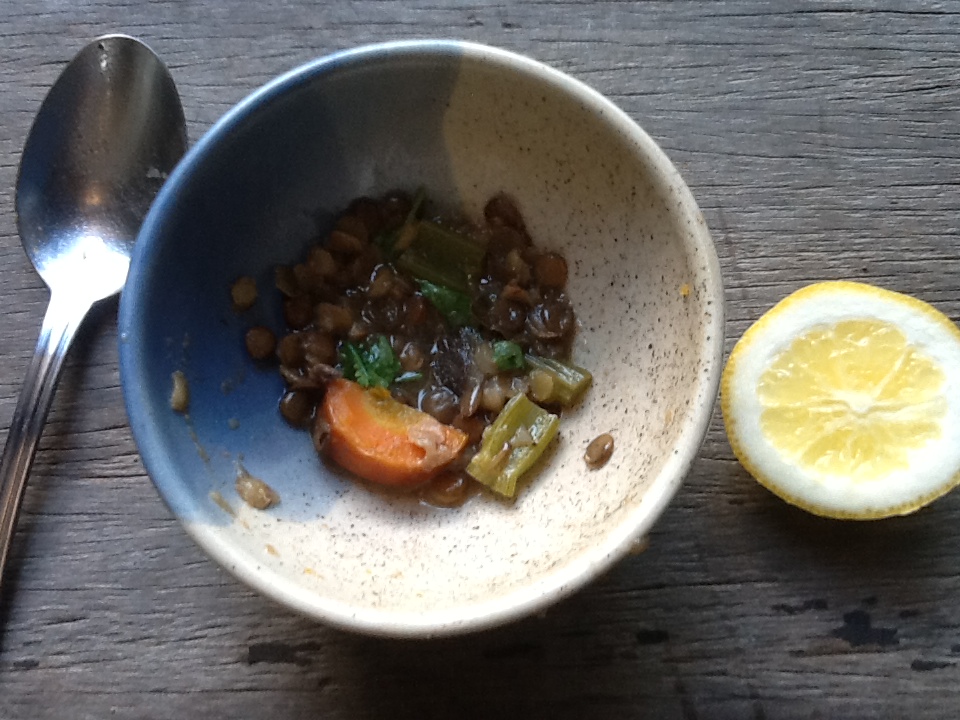 How did it taste? Pretty good! Level of difficulty in making? Super easy… as long as you have all the ingredients, especially the home made soup stock… I am not using commercial canned soup stock… ever… I'm a health advocate. Soup stocks take hours to make, duck soup for example may at least have been boiled 2-3 hours or more. The beef stocks we make boil for 5 hours or more.
The key is in sourcing all the ingredients. I got cumin from the indian grocery. We got organic duck from Laguna – Itlog ni Kuya. We got olive oil from healthy options. We got organic carrots and organic celery from our organic store at OPTA in Esteban Abada. And the other ingredients from the wet market at Farmer's market Cubao.