Children's Health: Worm Infestation in 9.68 Million Students says NIH
Posted On March 1, 2013
An alarming estimate made by the NIH or National Institutes of Health recently reported in the Philippine Daily Inquirer February 27, 2013 with the banner title: "Worms scourge of public school pupils, agency finds". I took a picture of this newspaper article. In the article it says a 44 percent infection rate among the 22 million students… is that a 2012 estimate? Alarmingly in 2004-2006 the infection rate was 70 percent! So it seems that in 5+ years there was a big 26 percent improvement. But of course that is not enough. 9.68 million students is 44% of 22 million.  That is a lot of children to deworm.
The meaty part of the report says:
NIH Executive Director Dr. Vicente Belizario Jr. said the government's deworming program was not as effective as it should be due to the lack of information and preparation on the ground.

"(In 2004-2006), 70 percent of Filipino schoolchildren had worms. The latest check we did—we were funded by the Department of Health to do a study at sentinel sites—showed this went down to a 44-percent infection rate," Belizario said in an interview.

"This is still not acceptable because the World Health Organization (WHO) says it has to be under 20 percent," he said.

Belizario said the national deworming program covered only 20 percent of affected schoolchildren, way below the 75-percent recommended by the WHO, even as the government buys millions of pesos worth of drugs annually to fight worms.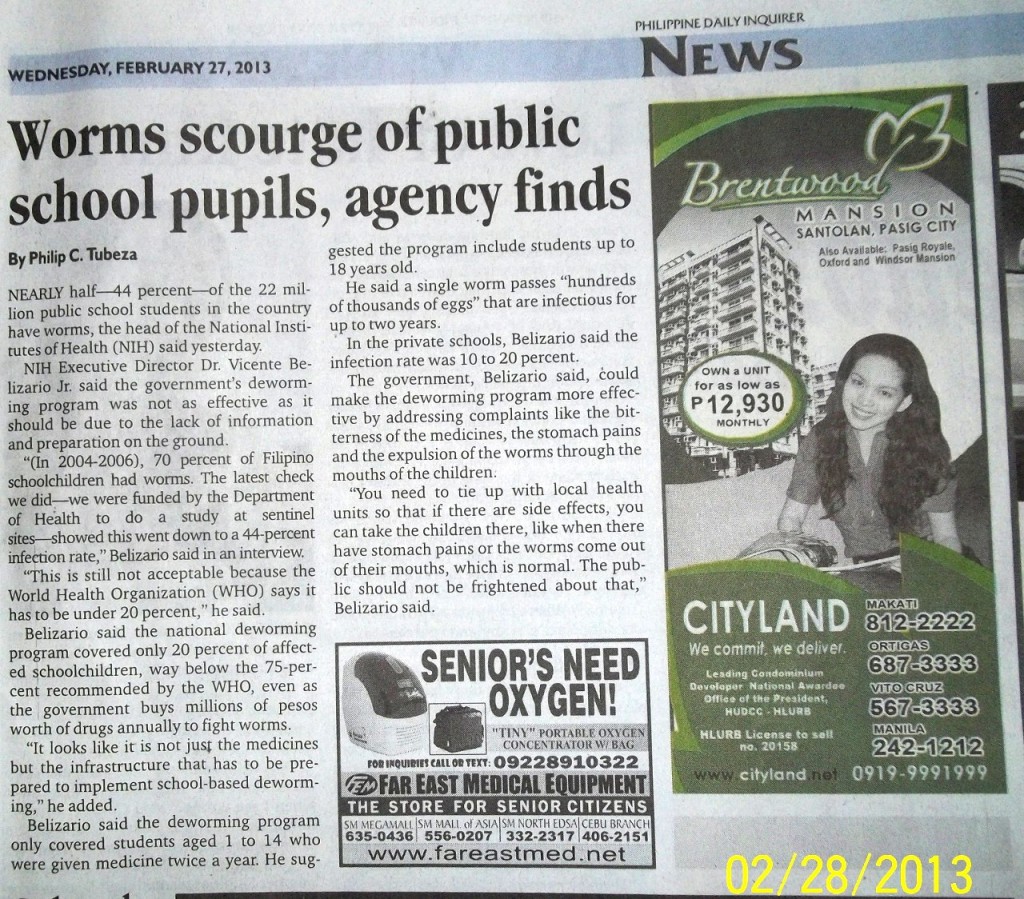 Note that the government thrust is to use drugs to fight worms. Drugs are the cheapest way a government may be able to do mass deworming. Which makes me want to know what brand of drugs the government uses in their deworming program.
But me as a parent, I deworm my children using herbals. I've used both Barefoot Herbalist MH dewormer from www.oldfashionedspices.com and Humaworm for kids from www.humaworm.com both are 30 day programs that eliminate worms at all stages. This does not mean that your child will be forever worm free, but it will give your child a chance to grow bigger. Worms consume the nutrition that should be used by your child to grow up.
Important note: You need to cleanse your child's colon before deworming. Do not deworm constipated children. The worm dead bodies need to go out the back door.
Important note 2: Most Filipinos eat a cooked diet. Poorer Filipinos eat markedly less meat. Why is it that poorer Filipinos have a higher infection rate? Does this mean that richer families, children in private schools get dewormed regularly? I think not.
I think children need to be dewormed regularly through food and herbs. How regular that is is a judgement call that will depend on you. And please deworm yourselves as parents first before giving any deworming drugs or herbs to your children. Experience deworming as a parent first!