Beat the Summer Heat with Fresh Mountain Spring Water Swimming Hole in Marikina Infanta Road Km 94+ Sitio Little Baguio
Posted On April 14, 2013
Being a health nut, I'm always looking for more natural, more pristine, without electricity. Yesterday Saturday I asked the kids if they would like to go for a swim in a cool natural fresh mountain spring water swimming hole along the Marikina Infanta Road. And being bored kids in the summer vacation heat they all said yes! Had the nannie pack some food and off we went 10 am. I was not sure if that swimming hole would still be there. The last few times we tried looking for it, we missed it or we did not go far enough, or at one time it may have been buried with the Ondoy rains in 2009. The last time my cousin and my son and I took a dip even farther where we ate our picnic while sitting on a cool stream.
This time with just me on the wheel we could do some ad hoc adventuring and stop wherever whenever we wanted to. We bought some ripe cashew fruits and some cooked plain cashew nuts on the road. The cashew trees grew wild here. Note that you only suck at the flesh of the cashew fruit and drink the cool refreshing juice. The cashew nut you never eat without cooking. It is encased in a poison, herbal oily shell. This shell when cooked, its fumes are deadly to chicken and duck baby chicks. The oil is used to burn skin cleanly, effortlessly killing kulugo / warts to the roots. Cashew oil use vs warts has been perfected by the Amazing touch chain of clinics. Do not eat raw cashew nuts please.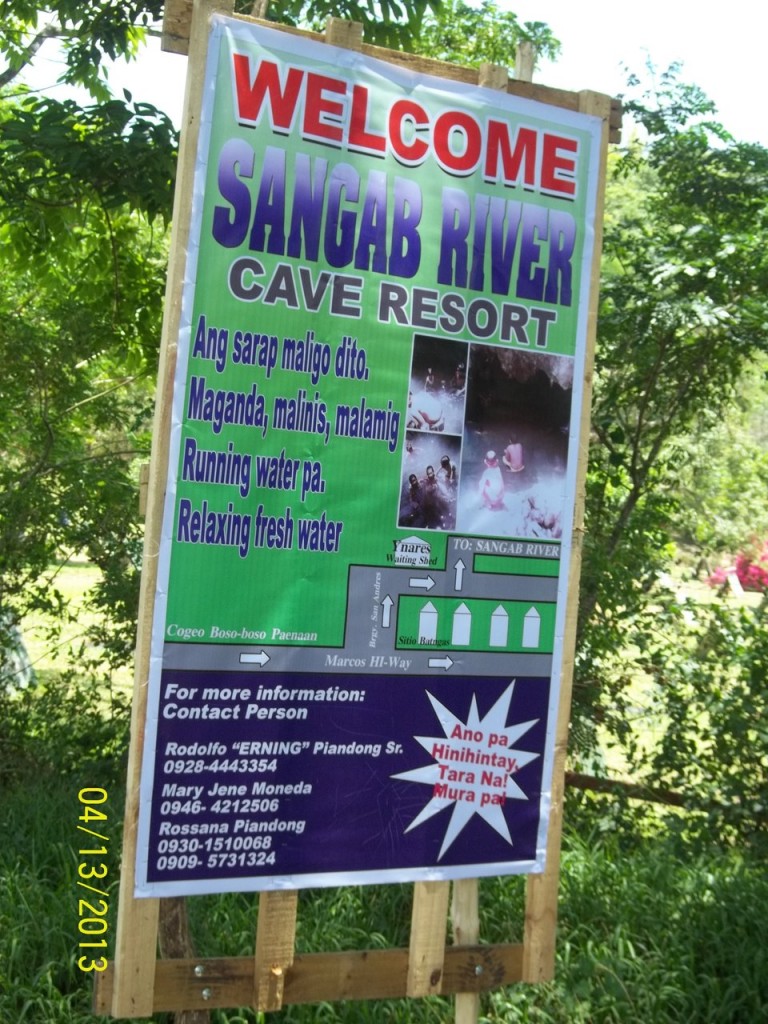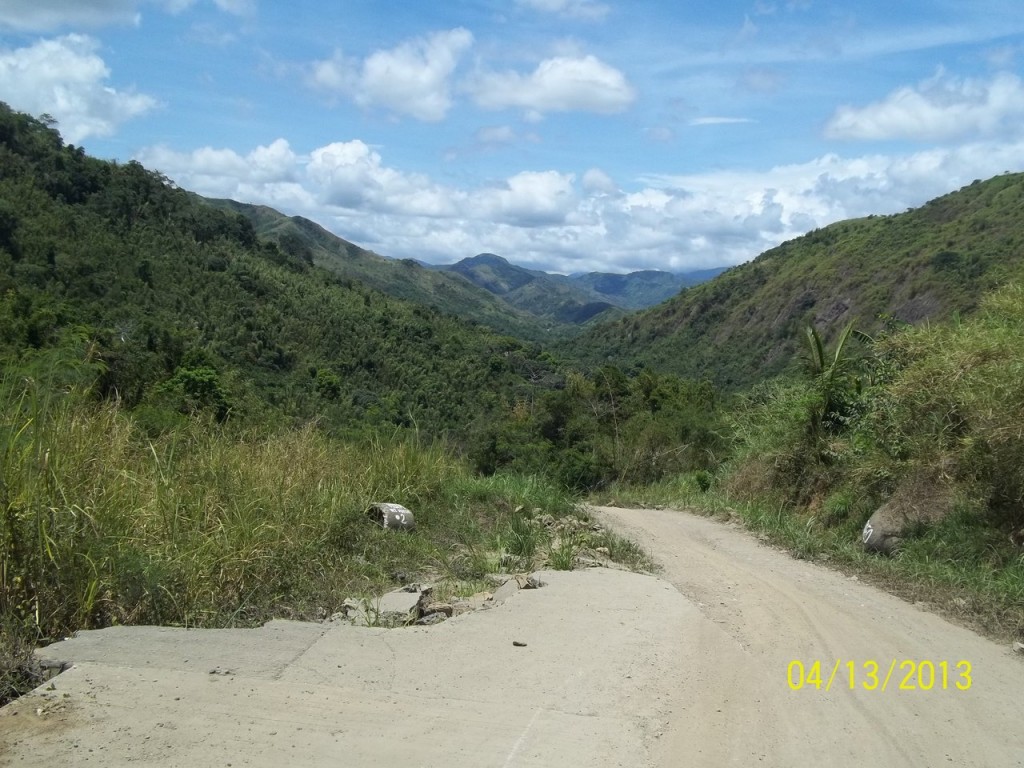 Report on Sangab Cave http://philcavenews.blogspot.com/2007/11/sangab-cave.html
At first we passed by a brand new sign that said "Sangab River Cave Resort". So we followed the map not to scale and turned left at Barangay San Andres. The road was getting steeper and narrower and finally just a dirt road. We stopped. Waited and a couple on a motorcycle was going down. We asked them if this was the way to Sangab River Cave Resort. They said yes and that we should follow them, it was 30 minutes away. Made me think, 30 minutes is pretty far deep in the mountains. I do not know if our Toyota Fortuner will have enough road space to fit. Or if we can climb out or how steep along the way it is. Maybe I should pass for now. Maybe I should explore this without the kids and maybe just by myself with the guide on the tarpoline sign. So pass. We turned back into the main road.
On the way up we saw an ice cream man pushing a box. He sold us some cheese flavored ice cream stick and an ice cream bar with chocolate and pinipig. I got one for each kid and the nannie. Sure, cheat a little during vacation. It was a Jubilee brand… might be a private small ice cream maker in the mountains. Cheap at 10 pesos and 15 pesos each. Summer heat vacation treat.
Further on we reached our old organic cow's milk supplier. And they had organic cow's milk at that time. Their new dairy cow had just given birth 2 months ago and had 6 more months of milking. They even had new raw cheese for sale. We bought 7 square slices of raw cheese and 10 liters of raw organic cow's milk. Sad news though that this is already a different cow. The older cow that we bought milk from for my then sick son's 3 week raw milk only diet to help cure his intestines had died. At one rainy day, the earth underneath her collapsed and with her she was trapped and her neck snapped. Oh, thank you for the milk memories, you will be missed. We paid for the goods, drank 1 liter of milk on the spot and brought with us a 2nd liter for the trip. Just went back for the rest of the goodies on the way back home later.
We skipped the usual Sierra Madre Hotel and Pranjetto Hills resorts and moved on, past Tanay town and past JE or Joseph Estrada's resort where our former president spent years under house arrest. We were slow to drive as we did not know exactly where the old spring water holes were and stopped at every little stream. We found some kids swimming in a tiny hole, too tiny. And another hole… too tiny. But we drove on and on until kilometer 94+ we saw our old mountain spring water swimming hole! You can see at the left and right sides dirt that did not used to be there. Seems this was indeed buried under some landslide in 2009 and then re-dug. It now has 1 waiting shed and 1 long hose stuck from the top as well as its tiny water fall.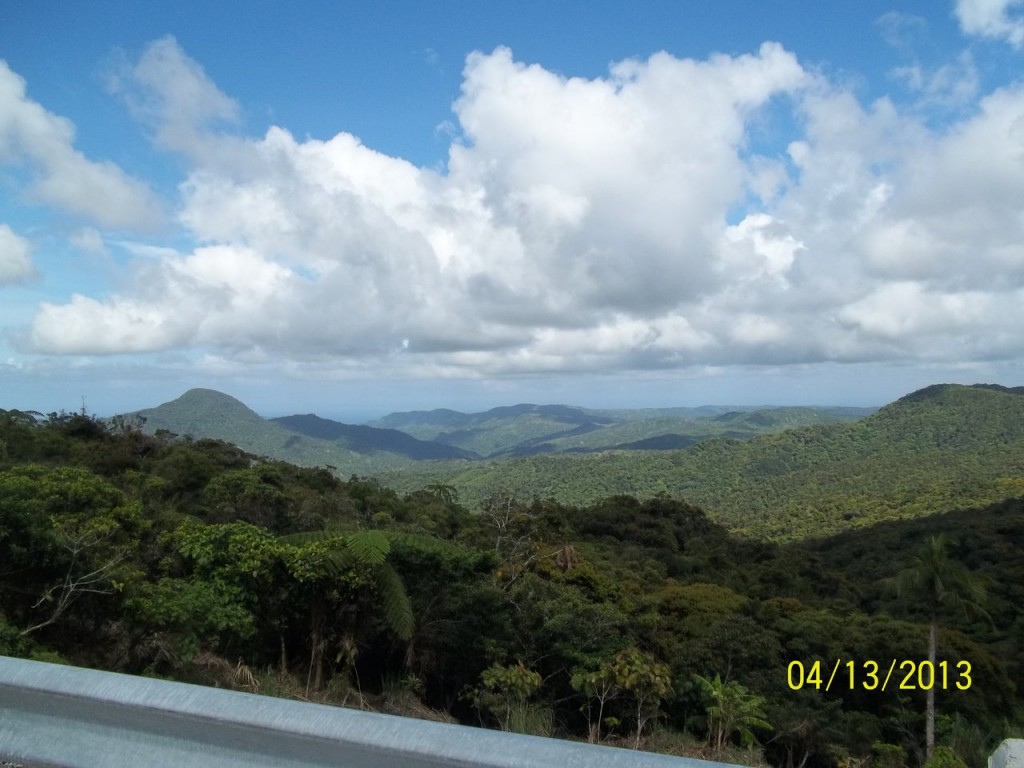 Yes, it was still inviting. Very cool air and breeze, under the shadow of the mountain… and not even in the pool, my kids were cold… ha ha ha… in the middle of April 2013 height of summer! This place was already known as Sitio Little Baguio already a part of Infanta, Quezon… some 3 hours away from Marikina if you drove straight to it at a leisurely pace. Seems this swimming hole may have been made by the road construction crew while they were making the Marikina Infanta road.
Me and the 3 kids finally sat down at edge of the pool and dipped our feet. Ha ha… cold water. I'm not chickening out, I'm daddy. After a few minutes I was ready to jump. And the kids were waiting for it. 1… 2… 3… jump and I submerged my entire body… to the laughter of kids as I stood up, the water was only some 3 feet shallow. Ha ha. My plump 9 year old boy jumped in and was enjoying the cool water while testing his mask and snorkel. My 8 year old girl after only a few minutes was blue cold got out of the water, did not get to shiver enough to generate heat. My 11 year old boy also got out of the water after a few minutes not able to generate enough of his own heat. Maybe me and my boy's fats have some use in this arena.
A few minutes before 4pm before we were to leave, there was a jeep full of pre-teen girls who were all equipped to swim and bathe. At the same time their driver got water from the hose to fill 3 big drums of drinking water. They had come from the very nearby Jariel's Peak restaurant / bike stop / hotel / camp site for fresh water. The driver says they stuck up that hose from way up and installed a filter up there so that non-stop hose water was absolutely clean for drinking.
So when we dried up and drove out, we stopped over at Jariel's Peak and get to know the menu, the accommodations and meet the owner himself Jariel. Which will be the subject of my next blog post. In the meantime, enjoy these pictures of the spring water hole. Entrance is absolutely free. First come first served. This swimming hole is tiny, so if jeep loads of you want to swim at the same time, it may be too crowded. This is such a desolate place for now so no over-crowding yet. But maybe in the future it will be crowded.
Here is the google maps link to Km 94+ swimming hole Marikina-Infanta Road and a visual google map to this place:
And some pics of the actual swimming hole and mini water fall.