How to Make Cheap Healthy Toothpaste and Healthy Deodorant with Sifu Jen Sam
Posted On May 7, 2013
In my website http://www.curemanual.com – Part of my detox protocols is pollution avoidance. Most commercial toothpastes and commercial deodorants contribute to body pollution with their dangerous chemicals. In this video, http://BarefootDoctoroftheFuture.com Sifu Jen Sam demonstrates how to make his Healthy Toothpaste and Deodorant with 4 simple ingredients: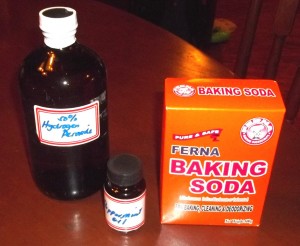 – Water
– Baking Soda / Sodium Bicarbonate – may be commercially bought
– Food Grade Hydrogen Peroxide – Handle with care!
– The peppermint oil – makes it smell like the commercial products
You will need some practical kitchen items:
– bowls
– a dropper
– spoon
Note that in our holistic health opinion, the TV advertised fluoride in toothpaste for teeth hardness is totally false… it is our opinion that fluoride is a toxic poison… that fluoridated water dumbs down people.
An alternative to this deodorant is the simple use of lemons or calamansi.
At home we have several healthy toothpastes and several healthy deodorants. It's all about having various choices and suitability for travel.